Our very own (world renowned doctor) Dr. Joel Wallach will be hosting a couple of Health and Business Lectures this week. If you live in or near Chicago, Illinois or Fort Wayne, Indiana make plans to attend one or both of these free events.
This is especially important for those who have challenges with their health, chronic pain, or weight management issues.  This will be your opportunity to hear what Doc recommends for overall health and for improving your particular health issue.
Also, if you are looking for a way to help your family thrive during this recession (while improving your health), pay close attention to the business aspects of Youngevity.  Joining Youngevity right now could make your life more prosperous and enjoyable.
Event #1:


Thursday, July 8, 2010

LOCATION: Mount Calvary Baptist Church,
1257 W. 111th Street, Chicago, IL 60643

TIME: 6pm – 8pm

COST: Free

OTHER: Question and Answer Session Will Follow Lecture

Event #2:

Saturday, July 10, 2010

LOCATION: Ultimate Nutrition Center
3229 Covington Road, Fort Wayne, IN 46802

TIME: 9am – 4pm

COST: Free

OTHER: Question and Answer Session Will Follow Lecture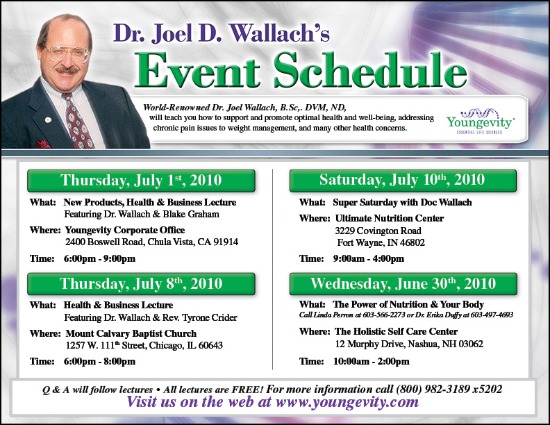 Source: YOUNGEVITY® ESSENTIAL LIFE SCIENCES