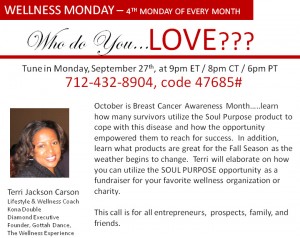 The 4th Monday of every month is Wellness Monday at Soul Purpose Lifestyle Company. 
Join us on our company call as our Wellness Coach, Terri Jackson Carson, shares information on how many survivors utilize the Soul Purpose products to cope with this disease and how the opportunity empowered them to reach for success.
Tune in Monday, September 27, 2010,
at 9pm Eastern / 6pm Pacific:
Call 712-432-8904, code 47685#
P.S. – Terri will also elaborate on how you can utilize the SOUL PURPOSE opportunity as a fundraiser for your favorite wellness organization or charity.
P.P.S. – Missed the call?  Call 712-432-8984, code 47685#, recording 092710#
Related Posts:
Source: SOUL PURPOSE LIFESTYLE CO.