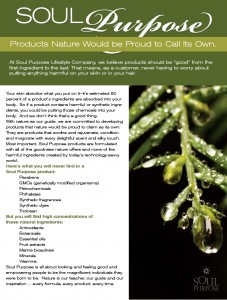 At Soul Purpose Lifestyle Company, we believe products should be "good" from the first ingredient to the last.  That means, as a customer, never having to worry about putting anything harmful on your skin or in your hair.
Your skin absorbs what you put on it — it is estimated that 60% of a product's ingredients are absorbed into your body.
So if a product contains harmful or synthetic ingredients, you could be putting those chemicals into your body.  And we don't think that's a good thing.
With nature as our guide, we are committed to developing products that nature would be proud to claim as its own.   They are products that soothe and rejuvenate, condition and invigorate with every delightful scent and silky touch.  Most important, Soul Purpose products are formulated with all of the goodness nature offers and none of the harmful ingredients created by today's technology-savvy world.
Here's what you will never find in a Soul Purpose product:
Parabens
GMOs (genetically modified organisms)
Petrochemicals
Phthalates
Synthetic fragrances
Synthetic dyes
Triclosan
BUT YOU WILL FIND HIGH CONCENTRATIONS OF THESE NATURAL INGREDIENTS:
Antioxidants
Botanicals
Essential Oils
Fruit extracts
Marine bioactives
Minerals
Vitamins
Soul Purpose is all about looking and feeling good and empowering people to be the magnificent individuals they were born to be.  Nature is our teacher, our guide, and our inspiration…every formula, every product, every time.
Additional Information:
Source: SOUL PURPOSE LIFESTYLE CO.