---
**Event Location & Details Are Below The Registration Form**
---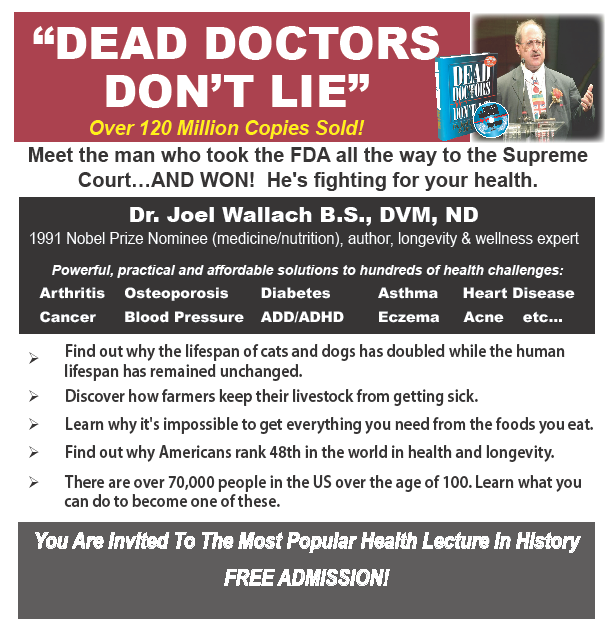 Upcoming 2011 Events with Dr. Wallach:
Thursday, December 08, 2011, 6pm,
Ramada Inn, 4900 Lake Shore Drive, Chicago, IL 60615
Saturday, December 10, 2011, 8:30am,
Ultimate Nutrition Center, 3229 Covington Road, Fort Wayne, IN 46802
---
Come Hear Dr. Joel Wallach LIVE!
From the Author of "Dead Doctors Don't Lie"
(The Health Lecture That Sold Over 120 Million Copies!)
Dr. Joel Wallach B.S., DVM, ND
1991 Nobel Prize Nominee (medicine/nutrition) , author, longevity & wellness expert
Powerful, Practical and Affordable solutions to hundreds of health challenges:
Arthritis
Cancer
Osteoporosis
Blood Pressure
Diabetes
ADD/ADHD
Asthma
Eczema
Heart Disease
Acne, etc…
Also, how do you avoid these challenges?
IMPROVE YOUR HEALTH!
We spend more on health care than any other industrialized nation,
yet we are not even in the top 40 nations in longevity
and it's getting worse…why?
GOT HEALTH QUESTIONS?
Q&A Session will follow the lecture.
FREE ADMISSION
You Are Invited To The Most Popular Health Lecture In History!
REGISTER TODAY!!!
NO EVENT IN YOUR AREA?
Request Dr. Wallach's Health Lecture On CD
(Or listen now online)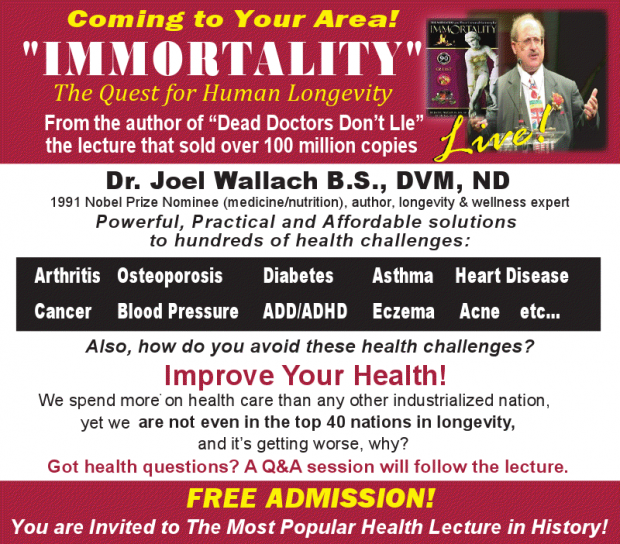 Source: YOUNGEVITY® ESSENTIAL LIFE SCIENCES.