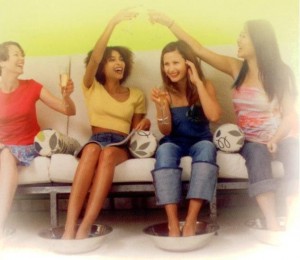 Now that summer is here it is more important than ever to take good care of your feet.
Having your feet look and feel their best requires only an easy four-step process, performed on a weekly basis.
Women and men both want smooth heels to put into their sandals.
A lot of people scrub and scrub their feet with all types of instruments and they end up with hard, rough, dry, cracked heels.  Their bodies just end up replacing hard skin with more hard skin.
My recommendation is to use those special instruments on rare occasions, preferably when you are sitting in a wonderful massage chair, soaking your feet in a heated foot tub, sipping a glass of champagne, reading the latest magazines, and receiving a fabulous pedicure.
In between those visits to the professionals, you only need to do four things to help maintain the look and feel of your feet:
Foot Soak – I pour a half cup of the Provence Lavender Mint Tea Foot Soak into my foot tub and fill it part way with warm water.  The foot soak will soften and deodorize your feet while relaxing and rejuvenating them. Our foot soak also contains magnesium sulfate to help reduce swelling and inflammation (perfect after a long day!).  It is up to you how long you soak, I typically soak for about 10 minutes.
Foot Polish – I remove one foot from the water and apply a quarter size amount of Provence Lavender Mint Tea Foot Scrub, giving special attention to the ball of my foot and the heel.  Use more scrub if you need to. This will GENTLY remove dead skin without scratching your skin, which is key to having smooth feet! I then put my foot back into the water and gently rinse off the foot polish, and repeat on the other foot.
Foot Spray – I remove my feet from the water, pat dry, and spray with the Provence Lavender Mint Tea Foot Spray.  This spray is so nice and refreshing. It leaves your feet feeling cool and tingly! [TIP:  Keep a bottle at your desk and give your feet a quick spray near the end of your workday for a quick pick me up.]
Foot Cream – My final step is to apply the Provence Lavender Mint Tea Organic Foot Cream. This will leave your feet feeling so smooth and by now you will notice that your entire body is more relaxed. [TIP: Keep the foot cream on your nightstand and rub it on your feet before bed every night.]
So there you have it! Simple and easy. I just finished my own weekly foot care routine, and I feel so relaxed and pampered right now. It is beautiful!
Order the set today and experience this little piece of heaven for yourself next week!
Oh, and for those times when you are in a hurry, just do the last two steps (Foot Spray and Organic Foot Cream). It is the next best thing to the full treatment.  In fact, at my spa parties I do the last two steps as a "mini-pedicure" and the feedback I get is always wonderful.
You can order the items individually, but the best deal is to purchase the entire set. It comes in a convenient carrying pouch that you can take with you when you get your professional pedicure!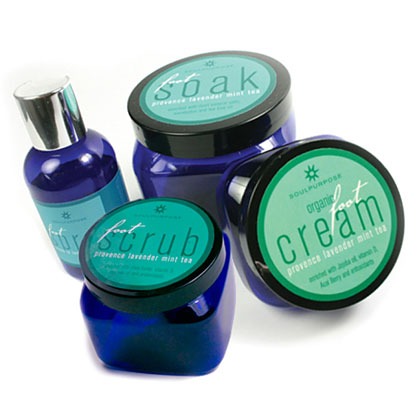 Products Mentioned:
Foot Soak – A therapeutic foot soak with Desert Mineral Salts and a variety of anti-inflammatory and healing oils including peppermint, wintergreen, tea tree, and eucalyptus to deodorize and freshen the feet. Our exclusive blend will soften, deodorize and reduce swelling and odor.
Item# SP460 | 16.7 OZ. | $15.00 ($22.00 Retail)
Foot Scrub – Exfoliate and renew dry, rough, hard working feet with our blend of fine pumice, moisturizing oils, shea butter, peppermint oil, Vitamin D, Tea Tree Oil and antioxidant extracts. Leaves feet smooth, soft, conditioned, and refreshed.
Item# SP461 | 15.3 oz. | $22.50 | ($30.00 Retail)
Foot Spray – A refreshing and deodorizing foot spray enriched with aloe vera, witch hazel, and our exclusive antioxidant blend of Acai fruit extract, Oregon grape, red wine, and green tea extract, peppermint, wintergreen, spearmint, eucalyptus and menthol essential oils to help leave your feet fresh and fragranced. Helps to overcome foot odor and leaves you feeling cool and refreshed.
Item# SP463 | 4.43 oz. | $8.00 ($12 Retail)
Organic Foot Cream – This luxurious cream softens hardworking, rough, dry feet and helps keep them moisturized, protected, and nourished throughout the day. Our exclusive antioxidant blend of Acai fruit extract, Oregon grape, red wine, and green tea extract along with the healing properties of aloe vera, eucalyptus and tea tree and emollient oils comforts the feet, softens and deeply moisturizes the skin while leaving the surface silky and soft to the touch.
Item# SP462 | 3.07 oz. | $11.00 | ($15.00 Retail)
Ordering Information:
Happy Feet Gift Set | Item# SP731 | $54.00 ($74 Retail)
Source: SandraBiz.com & SOUL PURPOSE LIFESTYLE CO.