Raw Shea Butter in Soul Purpose Products
All shea butters are not created equal. During the refining process the essential elements that make shea butter so healing to the skin can be lost. That's why a few companies are turning to Africa to obtain wild crafted shea butter for their moisturizing skin care products.
African Pride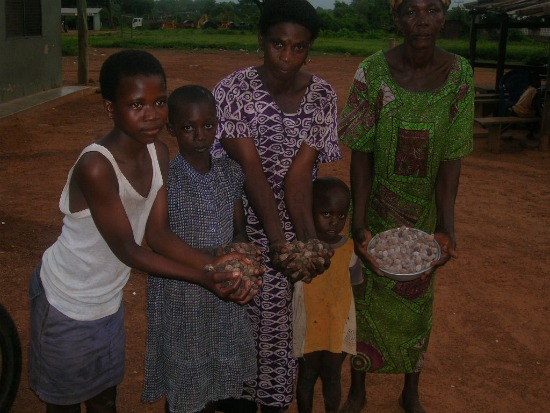 Shea butter from Ghana is rich in Vitamins A, E, and F. Vitamin A is essential for proper immune system functioning. Vitamin E protects cell membranes from oxidative damage. Vitamin F is a skin-conditioning and cleansing agent. These three vitamins are a great treatment for all skin types.
Global Entrepreneurship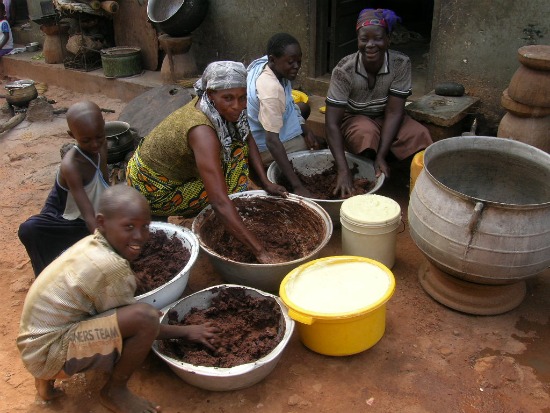 Nadine A. Thompson, the CEO & Founder of Soul Purpose Lifestyle Company, has partnered with a Women's Cooperative in Ghana to supply wild crafted shea butter for the Soul Purpose body care line.
By purchasing our custards and balms, you are not only receiving products that are very healing and nurturing to your skin, but you are also supporting entrepreneurship half a world away!
Beautiful Skin

When it comes to caring for your skin, it's best to have a good system. We often purchase systems for our face that include a scrub, cleanser, toner, and moisturizer, but we sometimes ignore the other 90% of our bodies.
A complete system for your body is equally important. It should begin with a good body scrub to remove dead skin cells (which if left on the skin could cause it to look dry and dull), followed by a moisturizing shower gel that cleanses the skin without stripping the natural oils. Next, apply a combination of moisturizers: A body balm (that contains wild crafted shea butter) should be applied to your feet, knees, and elbows followed by your choice of moisturizers, depending on the type of coverage you want for that day. Use the lotion when you want lighter coverage and use the custard on days when you want heavier coverage. Top it off by applying the matching solid perfume essence to your pulse points and you'll carry the light, memorable fragrance with you throughout your day!
What's great about a solid perfume is that it does not contain alcohol, which can be very drying to the skin, and it can travel with you on an airplane! So there's no more worrying about having to leave your favorite fragrance behind when you travel.
This daily routine (and using the scrub once a week) will give you the experience of a mini-spa treatment each morning as you start your day. And on those days when you really want to pamper yourself and indulge your senses, light the soy candle and use the shower gel to make a luscious bubble bath and soak your cares away!
Featured Product: Exotic Caribbean Ginger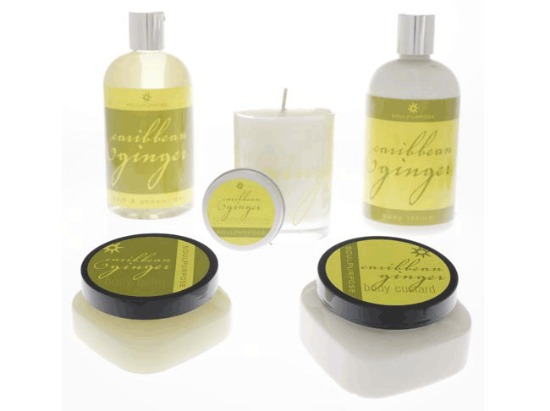 Caribbean Ginger Solid Perfume Scent | Item #SP304 | 1/2 oz. | $12.00
Caribbean Ginger Shea Body Balm |  Item #SP324 | 4 oz. | $22.00
Caribbean Ginger Soy Candle | Item #SP343 | 7.5 oz. | $20.00
Caribbean Ginger Custard | Item #SP363 | 5.5 oz. | $20.00
Caribbean Ginger Shower Gel | Item #SP403 | 12 oz. | $20.00
Caribbean Ginger Body Lotion | Item #SP423 | 12 oz. | $22.00
Exfoliating Dead Sea Salts | Item#YN1309 | 8 oz. | $23.00
(this will be in a very light fragrance not the Caribbean Ginger scent)
Source: SOUL PURPOSE LIFESTYLE CO. & YOUNGEVITY® ESSENTIAL LIFE SCIENCES