International Nutritional Products Company Youngevity® announced the launch of Triple Treat Chocolate featuring Probiotics.  Triple Treat Chocolate combines the antioxidant value of cocoa and wild craft blueberries with the health benefits of probiotics – all in an 8 gram delicious dark chocolate square.
Triple Treat Chocolate is All-Natural, Gluten-Free, Dairy-Free, Glycemic-Friendly, Fair Trade Compliant, contains no preservatives, and is kosher-certified.
Each 40 calorie piece of Triple Treat Chocolate boasts many healthful benefits not found in other chocolates.  Youngevity Triple Treat Chocolate is high in antioxidants and features an unprecedented ORAC (Oxygen Radical Absorbance Capacity) value of 16936 per piece and an ORAC FN value of 63024.
"We are truly excited to offer Triple Treat Chocolate, a healthy probiotic-rich chocolate that's great tasting and good for you!" said Steve Wallach, President and CEO of Youngevity®.  He continued, "Triple Treat Chocolate is already creating a buzz among consumers because of the ORAC value – which is the highest of any product we've ever developed or seen on the market!"
The ORAC test was completed by Brunswick Labs.  As the leading commercial laboratory specializing in the science of antioxidants and oxidative stress, Brunswick has been testing and providing documentation regarding the total ORAC value of various products worldwide for over 10 years.  More recently, Brunswick developed an even more comprehensive test, called the TOTAL ORAC FN which measures antioxidant activity against 5 of the most important free radicals found in humans.  These are hydroxyl, peroxyl, peroxynitrite, singlet oxygen, and superoxide anion.
Youngevity® is the only MLM company to achieve authorized Health Claims through the FDA. Dr. Joel Wallach and Dr. Ma Lan founded Wellness Lifestyles Inc. in April of 1997, which then adopted the global brand "Youngevity" in April 2006.  Youngevity®, now a leading designer of dietary supplements and cutting-edge personal care and wellness lifestyle products, was founded with the intent to help people "Live Younger Longer!", and markets worldwide through a network of independent distributors.  With Global headquarters in Chula Vista, California, Youngevity® holds international offices in New Zealand and Japan.  For more information, visit HealthyChocolate.  To order, visit http://sandraw.youngevityonline.com.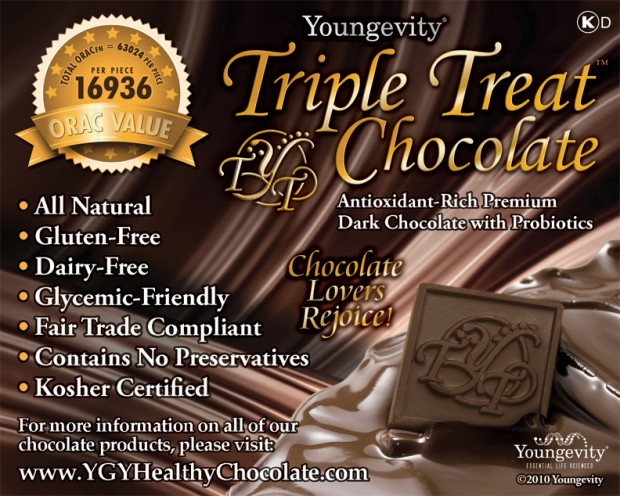 Source: YOUNGEVITY® ESSENTIAL LIFE SCIENCES