The corporate office has put together a Black Friday, Small Business Saturday, and Cyber Monday sale for you. To get these sale prices, use your Preferred Customer account or call (925) 388-6258 to process your order via telephone.
Happy Shopping!
By the way, the deals I think you should pay special attention to are highlighted in BLUE.
Black Friday – Cyber Monday Specials:
SupraLife™ Enzyme Plus™ – supports healthy digestion, especially after those big holiday meals.*
Reg. Price $24 | Sale Price $15

SupraLife™ OxyDrops™ – supports cellular oxygenation and detoxification; healthy blood flow, energy, stamina; and antioxidant activity.
Reg. Price $16 | Sale Price $11.50

SupraLife™ Immu-911™ – broad-spectrum immune support that's so important during colder weather.*
Reg. Price $29.50 | Sale Price $19

NuVante™ Nu C™ – reduces the visible signs of aging, fine lines, and wrinkles. With regular use, skin will gradually appear firmer and smoother with improved texture, tone and overall radiance.
Reg. Price $60 | Sale Price $39 (35% savings)

YouNique™ Skin Care Kit – for skin health and vitality. 8-piece bag includes Hydrating Day Cream (2 oz.), Night Repair Cream (2 oz.), Rejuvenating Toner (4 oz.), Botanical Hair and Scalp Conditioner (8 oz.), Antioxidant Therapy (0.5 oz.), Nature's Enzyme Peel (1.7 oz.), Firming Serum (1 oz.), and Nature's Face Lift (0.5 oz.)
Reg. Price $221.50 | Sale Price $75 (65% savings)

TLC™ Liquid Chocolate – a smooth and velvety, antioxidant-rich drink featuring the healthful benefits of pure cocoa extract plus the exotic flavors of Mangosteen, sour cherry, Açaí, Goji Berry, and other flavors – at just 19 calories per serving!* This makes a great holiday hostess gift!
Reg. Price $39 | Sale Price $25

Sale prices are good through Monday, November 28, 2011.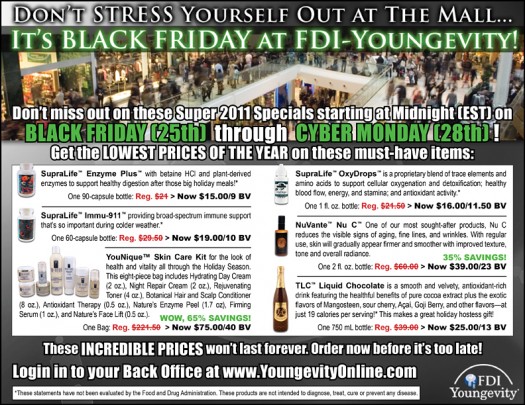 Image Source: FDI YOUNGEVITY®