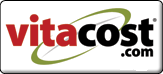 I heard about this offer earlier, and I am in the process of redeeming mine (scrolling through all of their hair care products now), and I thought I would pass it on to you.
If you are a new customer to Vitacost.com, you can shop via this link to receive $10 OFF your first order.  You can also request a free product sample with your order. Oh, and of course, you can order something besides hair products…that's just my thing :). They have a wide variety of popular brands in the area of health and wellness.
© 2011. SandraBiz.com. All Rights Reserved. This post may contain affiliate links, when you click on them you support this blog. Ty!