All New (Soul Purpose) Scrubs Now Available!
These three new scrubs have been formulated with lush moisturizing oils, shea butter, pure cane sugar, organic brown sugar and detoxifying salts. This luxurious yet healthy blend is fortified with an exclusive antioxidant blend that includes green tea, Oregon grape, red wine, and Acai berry.
Take your spa experience to the next level with these delicious scrubs fragranced with three new Journey of the Senses Fragrances.  Fruity Persian Pomegranate Mango, delicious Ghanaian Brown Sugar & Honey, and sexy Hollywood Fresh.
What is the Soul Purpose Difference?
The benefits of Acai, Oregon grape, and red wine polyphenols are related to reducing inflammation which is the key to anti-aging and lowering levels of free radicals.
Ghanaian Brown Sugar & Honey| Item# SP746 | 23.5 oz. sugar scrub | $35
Hollywood Fresh | Item# SP747 | 23.5 oz. salt scrub | $30
Persian Pomegranate Mango | Item# SP748 | 23.5 oz. sugar scrub | $30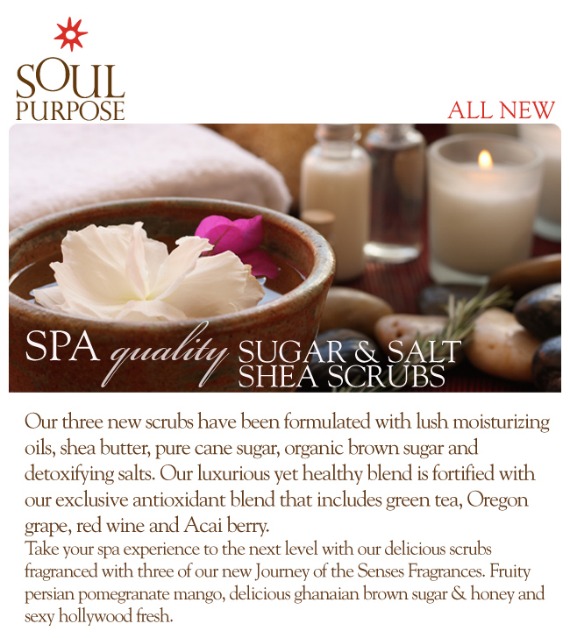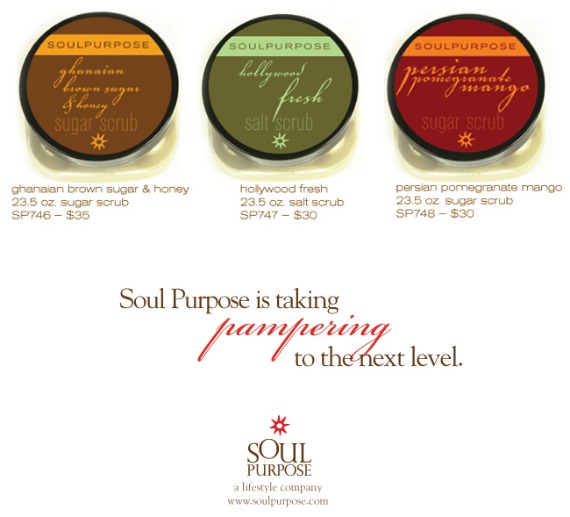 To place your order, click here now
Source: SOUL PURPOSE LIFESTYLE CO.