Soft, Sweet, Smooth, Pampered
Soul Purpose Journey of the Senses Body Polish is a gentle moisturizing scrub treatment for the body. Pure cane sugar blended with the world's finest oils and wild crafted shea butter results in an entirely natural and stimulating exfoliant.
Our luxurious body scrubs and polishes let you pamper your skin with restorative cane sugar, which exfoliates and rejuvenates rough, flaky skin. In addition the restorative, antibacterial properties of sugar bring you one of the sweetest bath experiences around. Natural extracts help moisturize and soften, leaving skin silky smooth.
Sugar-Shea Scrubs | $22 | 6.4 oz.
Brazilian Jackfruit [SP740]
Hawaiian Tuberose [SP741]
Zanzibar Girls' Club [SP742]
Caribbean Ginger [SP743]
Thai Water Lily [SP744]
Haitian Vetivért Pepper [SP745]
Beautiful Skin.
Our scrubs are now available for purchase.
Due to the high demand place your orders today.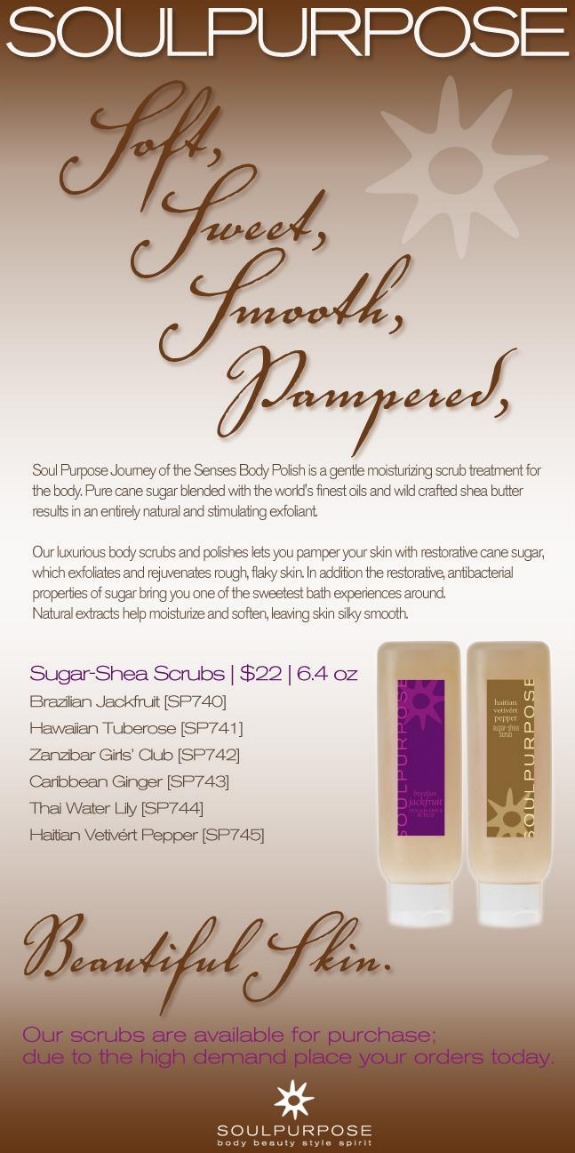 Source: SOUL PURPOSE LIFESTYLE CO.