Happy Feet Collection: Product Details
Natural and organic skin care for beautifully pampered, HAPPY FEET.
Foot Scrub: enriched with shea butter, vitamin D, tea tree oil, and antioxidants
Item# SP461 | 15.3 oz. | $30
Pamper yourself with a moisturizing Soul Purpose pedicure.  Renew dry, rough, hard working feet with our blend of fine pumice, moisturizing oils, shea butter, peppermint oil, Vitamin D, Tree Tree Oil, and antioxidant extracts. Leaves feet smooth, soft, conditioned, and refreshed. After cleansing or soaking massage this exfoliating butter scrub into the feet paying special attention to heels and calloused areas.  Rinse well, towel dry, and finish with our therapeutic and moisturizing foot cream.
Organic Foot Cream: enriched with Jojoba oil, vitamin D, Acai Berry, and antioxidants. Item# SP462 | 3.07 oz. | $15
This luxurious cream softens hardworking, rough, dry feet and helps keep them moisturized throughout the day.  Our exclusive antioxidant blend of acai fruit extract, Oregon grape, red wine, and green tea extract along with the healing properties of aloe vera, eucalyptus, and tea tree, and emollient oils comforts the foot, softens and deeply moisturizes the skin, while leaving the surface silky and soft to the touch.
Foot Soak: enriched with desert mineral salts, eucalyptus, and tea tree oil.
Item# SP460 | 16.7 oz. | $22
A therapeutic foot soak with Desert Minerals salts and a variety of anti-inflammatory and healing oils including peppermint, wintergreen, tea tree, and eucalyptus to deodorize and freshen the feet.  Our exclusive blend will soften, deodorize, and reduce swelling and odor.
Foot Spray:  Item# SP463 | 4.43 oz. | $12
A refreshing and deodorizing foot spray, enriched with aloe vera, witch hazel, and our exclusive antioxidant blend of Acai fruit extract, Oregon grape, red wine, and green tea extract.  Peppermint, wintergreen, spearmint, eucalyptus, and menthol essential oils help to leave your feet fresh and fragranced.  Helps to overcome foot odor, feeling cool, refreshed.
Happy Feet Gift Set | Item# SP731 | all 4 items | $75
Order Happy Feet! (for you and a friend)
Become A Member & SAVE 30%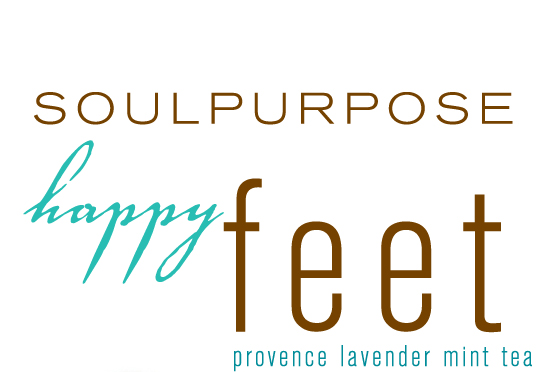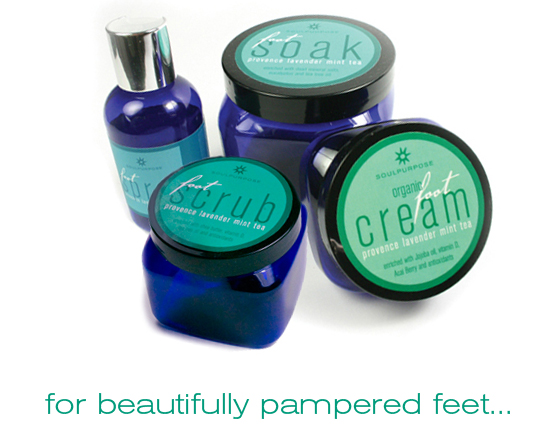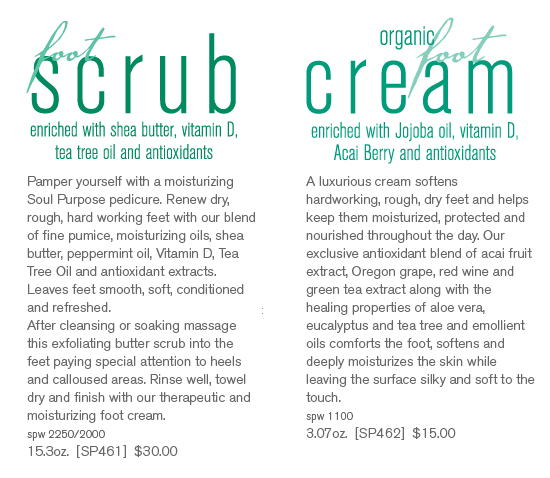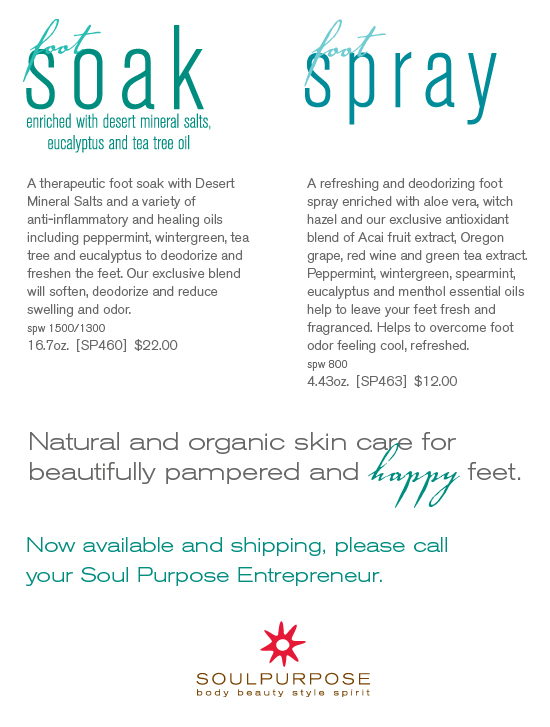 Source: SOUL PURPOSE LIFESTYLE CO.