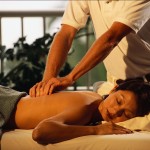 October is Breast Cancer Awareness Month and many of us either know someone who has experienced breast cancer or any form of cancer or have experienced this life-threatening disease ourselves. The medical community offers two main treatment options for cancer: chemotherapy and radiation to hopefully kill the cancer cells without killing the patient.
When you undergo these therapies, particularly radiation, it can leave the skin dry and burnt. It is easy to feel lethargic and depressed. And typically there is hair loss. Internally, the entire process can be quite painful. Many find their appetite greatly diminished and often there are problems in the lower back region.
One of the best things you can do for yourself or for a friend or family member who is battling this disease is to put together a wellness pack for them, take it to their house, and apply it for them. There is such healing energy in your touch and there is no better time to share that energy than when someone is trying to recover from an illness.
In your kit, include: a ginger candle and shower gel, the three therapeutic salves, the plant-derived minerals, and the Projoba Complete pack. When you arrive at their home, light the candle (if it is safe to do so) or place it on a candle warmer. The aromatherapy from the candle will soothe and relax them and their respiratory system since it contains pure essential oils.
Pour a cap full of ginger shower gel into a basin of warm water and gently cleanse their legs and feet. Apply the Remede Therapeutic Salve to their legs, feet, and any other area that has dry or burnt skin. Pay special attention to massaging their feet since you can relax and rejuvenate their entire body by massaging their feet.
Apply the Heat Therapeutic Salve to their lower back and any other place where they are experiencing pain. It will warm that area and temporarily relieve any pain they are experiencing. Apply the Soothe Therapeutic Salve to their scalp and massage it in gently, especially if they have already begun to lose their hair.
Finally, have them take 2 tablespoons of the Plant-derived minerals and the recommended amounts of Polbax, Hepol, and Probacillus Plus (the Projoba Complete pack). They'll want to continue taking these products every day. These will assist them in feeling more like themselves again, especially emotionally. They can also use the therapeutic salves daily as well to treat and condition the skin.
Wellness Kit Ordering Information:
[SP343] Caribbean Ginger Soy Candle – 7.5OZ. – $20.00
[SP403] Caribbean Ginger Shower Gel – 12OZ. – $20.00
[SP435] Remede Therapeutic Salve – 2OZ. – $17.00
[SP436] Soothe Therapeutic Salve – 2OZ. – $17.00
[SP437] Heat Therapeutic Salve – 2OZ. – $17.00
[13203] Plant-derived Minerals – 32OZ. – $25.71
[PJ420] Projoba Complete – $107.15
Source: SOUL PURPOSE LIFESTYLE CO. & YOUNGEVITY INTERNATIONAL
These statements have not been evaluated by the Food and Drug Administration, and the Youngevity family of products are never intended as medical treatments for any disease, disorder or medical condition.