WHO said it could not be done?
And what great victories has he to his credit
which qualify him to judge others accurately?
— Napoleon Hill.
A Phenomenal Woman
After more than ten years of empowering women and men in the direct sales industry, helping to birth the network marketing company Warm Spirit, building it to more than $15 million dollars in annual sales, and creating hundreds of unforgettable products, Nadine A. Thompson found herself disempowered and starting over from scratch.
Drawing upon her reputation in the industry, the help of faithful friends, her gift for creating signature products for the skin, hair and body, and the support of thousands of women and men she knew (and many who had only read about her in magazines), she took a leap of faith and created her own company, called Soul Purpose Lifestyle Company.
This new venture focuses on empowering women and men not just here in America, but globally. It is a green, socially responsible company that puts love into every aspect of its business: from the selection of earth-friendly product packaging, to organic and vegan body-friendly ingredients, to the vegetable-based ink used on its labels, to a compensation plan that gives people the opportunity to significantly improve their family's finances and create wealth.
The details are so exciting that they often cause our Lifestyle Entrepreneurs to scream in excitement when they open the products for the very first time, share their testimonies, and talk about this amazing company.
We now present for your consideration Soul Purpose Lifestyle Company:
Why Soul Purpose?
Because Soul Purpose is a different kind of company.
Soul Purpose officially launched in May 2008, with more than 3,000 visionaries from all across America.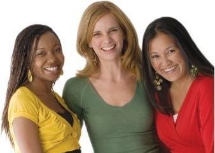 In a brilliant move, Soul Purpose partnered with a veteran in the direct sales industry, Youngevity Essential Life Sciences, which has allowed us to introduce the first phase of our product line in record time!
In addition, this partnership gives us access to a variety of nutritional products, organic wine, skin care products, award-winning mineral makeup, and products for the home that all adhere to the same high quality standards, with an emphasis on natural, organic, and body-friendly ingredients.
We also have a global infrastructure that allows you to build an international team!
Why a Home-based Business?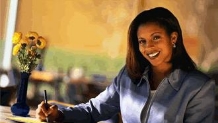 Because…let's face it…you really just want to spend more time at home.
But if you're like most people, you work hard to provide a good home for your family only to spend your days somewhere you really do not want to be: stuck in traffic, elbow to elbow with strangers on the train, in endless meetings, traveling too much, or in a cubicle.
As a Soul Purpose Lifestyle Entrepreneur, you are in complete control.
When you join Soul Purpose, you become the CEO of your own business. You can create the flexible schedule you have always desired and have more time for what really matters to you. You can work 4 hours a week or 40 hours…it's your choice. You can have your home and be there too!
Why an Entrepreneurial Lifestyle?
Because it reorganizes your life around what really matters to you.
You can:
Start your work day early or late.
Take your children to school.
Have a long lunch with your girlfriends…during the week.
Play another round of golf with your buddies.
Take real vacations again and not "stay-cations."
Prepare a nutritious dinner for your family.
Have time to workout.
Get healthy and stay healthy.
Work your business from anywhere in the world.
Enjoy your work & your business partners.
Laugh and have fun again.
Make extra money to pay your car note and household bills.
Reduce or eliminate your debt.
Layoff-proof your life.
Finance your dream business.
Help your loved ones improve their health.
Send your children to the best schools.
Purchase or build the home of your dreams.
Access the best personal development tools available.
Win fabulous gifts, trips, and prizes.
No matter what you aspire to create, Soul Purpose can equip you to earn the income you want and live the life of your dreams. It's everything you've said you wanted…and more!
Why this Product Collection?
Because it works! It's an innovative product collection with four distinct categories: Body, Beauty, Style, and Spirit.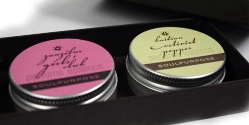 Our vision is that our products and our lifestyle approach will help you redefine your ideas about beauty and personal style.
The first phase of our product catalog includes: remedies for pain relief, skin conditions, and dry scalp; a hand care collection; a foot care collection; soy aromatherapy candles; solid scent perfume essences; shower gels with antioxidants; paraben-free body lotions; wild crafted shea butter body balms; ultra rich body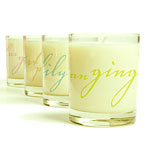 custards; and beautiful journals with handmade paper.
Also, through our strategic partnership, you have access to the best health & nutrition products, delicious weight loss chocolate, an award-winning line of mineral makeup, jewelry, pure essential oils, organic cleaning supplies, alcohol-free antibacterial products, health juices, nutrition bars & shakes, organic California wine, and so much more! These products are botanically based with an emphasis on natural and organic ingredients.
In addition, grooming products for men, elegant note cards, and an intriguing selection of world music are coming soon.
With more than 400 products immediately available to you, you can tailor your new business to suit your personality, your interests, your passion, and your style.
Why this Industry?
Because the person who loves you most determines the size of your paycheck…YOU!
In this time of massive corporate restructurings, asset seizures, government bailouts, and general instability, there has never been a better time to start a direct sales business. This industry has created more self-made millionaires than any other industry and it thrives in down markets.
In fact, the Wellness sector is projected to hit one trillion dollars as more and more Americans look for organic and natural means to sustain and maintain their now longer lives.
Consider this your own, personal bailout plan!
Why this Compensation Plan?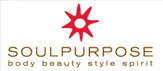 Because even industry veterans who have made millions of dollars in other direct sales / network marketing companies want an application!
With an investment of only $10 you can start your new business tonight and begin to create a better lifestyle or just more breathing room in your family budget.
A $10 investment gives you access to our simple, easy, EXCITING and FINANCIALLY REWARDING compensation plan that allows you to earn RIGHT NOW cash and long term residual income and lots of money in between.
Also, in a revolutionary move, your demonstrated commitment to success will be rewarded with shares in Soul Purpose Lifestyle Company — an enterprise we will build together.
What If I Hate To Sell?
Who doesn't? But do you like to share good finds with others? We bet you do. We bet that at some point, possibly even this week…or today, you have shared a favorite recipe, movie, clothing designer, shoe brand, doctor, dentist, hair stylist, book, play, restaurant, CD, cellular provider, retail store, or any other personal recommendation with someone you know…OR…even a perfect stranger on the street!
We just think you should get paid for it!
What Does It Take to Be Successful?

This business works best for those who:
Want to make money, help people, or both,
Have 10 hours per week to devote to the business,
Are willing to learn how to train their mind for success, and
Can follow a proven plan (1, 2, 3 and repeat)
Your Dream Can NOW Become A Reality!

We have created a unique vision. A vision that is inclusive, that reaches out to you (and to all individuals, groups, and communities) and gives you the opportunity to transform your life, your family, and your community in profound ways.
Soul Purpose is filled with love and joy, hope and vision, and most of all acceptance for you and for all those who share our dream.
You have so much to gain and so many lives to impact.
Get started right now! You'll be so glad you did.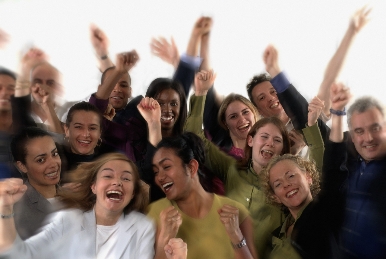 "What is the recipe for successful achievement?
To my mind there are just four essentials:
Choose a career you love…Give it the best there is in you…
Seize your opportunities…And be a member of the team."
— Benjamin F. Fairless
Would you like to Join our Team?
Call Sandra at 925-388-6258 if you need assistance.
This is an investment in you, your future, and the lifestyle
you can create.
You can do it!
Get started now!

Source: SOUL PURPOSE LIFESTYLE CO.