He's your protector, your comforter, and the man who loves you more than any other. This Father's Day don't just honor your father, celebrate him by giving him a special day that he will always remember and a gift that is so unique few others on the planet have it!
Soul Purpose has put together an amazing collection of solid essences that are as warm and strong as the men we celebrate. From Australian Sandalwood: a fusion scent surrounding the essential oil of sandalwood with spicier undertones of cinnamon, clover and nutmeg. This complex blend is rounded out by creamy vanilla and finished with precious woods and warm musk…to the smooth tones of Haitian Vetivert Pepper…to the alluring scent of Hollywood Fresh, this is a gift dad will use and enjoy all year long!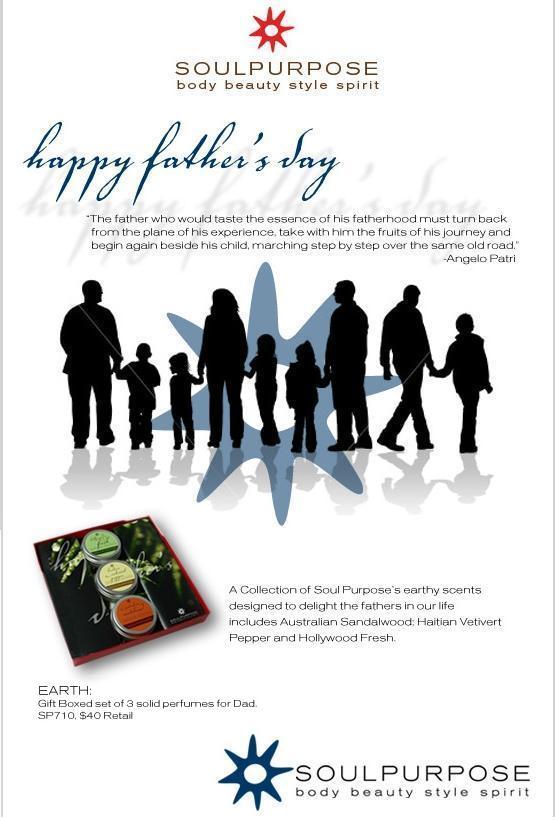 This June 15th, CELEBRATE FATHER'S DAY in a soulful way with this collection of Earthy Fragrances! Earth – Boxed Collection of 3 Solid Scents: Australian Sandalwood, Haitian Vetivert Pepper, Hollywood Fresh [SP710] $40 (Ask about our full line of nature-based, organic products designed to illuminate your body, beauty, style & spirit!)
Click Here Now to Place Your Order! Happy Father's Day!
Source: SOUL PURPOSE, INC.