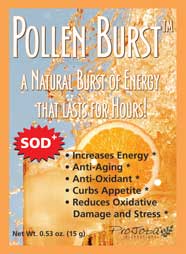 Whether you need a natural jolt to get you going in the morning or something to combat that slump in the middle of your day, it's best to reach for a healthy alternative to the normal caffeine-based or sugar-rich beverage most people choose. Here's what customers are saying:
"I think the stuff is fantastic! It's great! Love it!"
"…has given me more energy…lifted my mood…shaved a half hour off my lap marathon"
"lost 27 pounds just drinking Pollen Burst"
"Pollen Burst is an amazing product. I would recommend it to everyone!!"
So What Exactly Is Pollen Burst?
It's a food drink made from natural, botanical extracts; it has a great taste and produces a noticeable burst of energy just when you need it. It even contains ingredients that have been scientifically shown to enhance your health!
How Do I Take It?
Each box of pollen burst contains a month's supply (30 individual packets) that you mix in water. Some people use 2 packets per day. It's entirely up to you!
How Do I Order?
Click Here to Order Now and become a customer. If you would like one box, enter Item# PJ330. Or if you prefer to order two boxes (a savings of more than 10%) enter Item# PJ2330. 
Source: YOUNGEVITY INTERNATIONAL
These statements have not been evaluated by the Food and Drug Administration, and the Youngevity family of products are never intended as medical treatments for any disease, disorder or medical condition.