There is still time to get this month's featured body care products. The fragrance is Persian Pomegranate & Mango. This is the perfect way to get a bit of the aroma of summer while we are still deep in the clutches of winter. The set includes: hand/body wash, body custard, solid scent, and body gloss.

The body custard is thicker than both a lotion and a souffle. It provides nice coverage for this time of year (in the Northern Hemisphere at least). If you have really dry skin, you can mix the body custard and the body gloss together and then apply the mixture to slightly damp skin, after your bath or shower.
The solid scent is your on-the-go fragrance. It is small enough to fit in your bag or purse and convenient enough to take with you when you travel. In a pinch, it also works well on your cuticles, or to seal in moisture after you wash your hands. And remember, with these products a little goes a long way.
Special Offer:
If you would like to put your skin care on auto-pilot, sign up for the monthly auto-ship subscription.
When you do, each month you will receive a different selection of great smelling, skin-pampering body care products made with quality ingredients, conveniently delivered to your door.
Nadine, the founder of Soul Purpose, puts such care and attention into not only the product formulations but also the packaging. Everything arrives beautifully packaged, usually in a gift box. It is truly a nice treat to give to yourself or to someone else you love…turning bath time into a mini spa-like experience.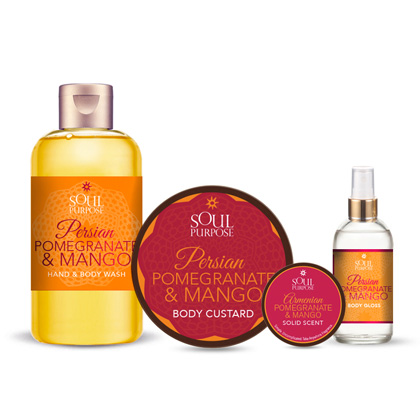 To order "Joy of Month Club – January" [Item #: SP9000], click here.
The retail price is $50 ($35 for Preferred Customers, free to enroll).
Image Source: SoulPurpose.com