Juvenile Arthritis (JA) affects over 300,000 children a year under the age of 16.
The symptoms of juvenile arthritis are the same as adult arthritis, marked by painful joint movement, stiffness and overall inflammation throughout the body. At Youngevity®, we recommend your children use exercise, good nutrition and bone-supporting supplements to help them to create a healthy life.
On a personal note, one of the things I love about Youngevity is that health challenges are not mysterious to us. We approach everything from a nutritional standpoint: Give the body what it needs and watch it slowly (and sometimes swiftly, depending upon the person) begin to heal and repair itself.

There are few things more amazing than watching the body heal and repair itself from the inside out. If you or someone you love is suffering from arthritis, please direct them to this site and help them experience (for themselves) the joys of a body that has been consistently given the 90 essential nutrients (also known as "90 for Life").
Recommended Products for Bone Health:
SupraLife Kids Toddy® | Item #: 81150
[provides your growing child with a full spectrum of nutrients, including
vitamins, minerals, amino acids, and phytonutrients. It is specifically
formulated for children ages 2 to 12, and provides the essential nutrients to
support their development.* It contains NO yeast, dairy, wheat, soy, gluten,
starch, or artificial flavorings. It comes in an Outrageous Orange flavor
that kids love!]
Osteo-FX Plus™ | Item #: 13210
[loaded with key nutrients to support healthy bones and joints, including Vitamin D3, calcium, phosphorus, magnesium, MSM, glucosamine, and more!*]
Ultimate™ Gluco-Gel™ | Item #: 21251
[the ultimate way to get your daily dose of collagen, a main building block of
bone matrix, cartilage, ligaments, tendons and connective tissue.*]
Invision™ CM Cream™ | Item #: 150201
[provides temporary relief of minor aches and pains of muscles and joints.*]
Purchase The Recommended Products Now Online** or
call (925) 388-6258 to shop by telephone.
*These statements have not been evaluated by the FDA. This is not intended to diagnose, treat, cure or prevent any disease.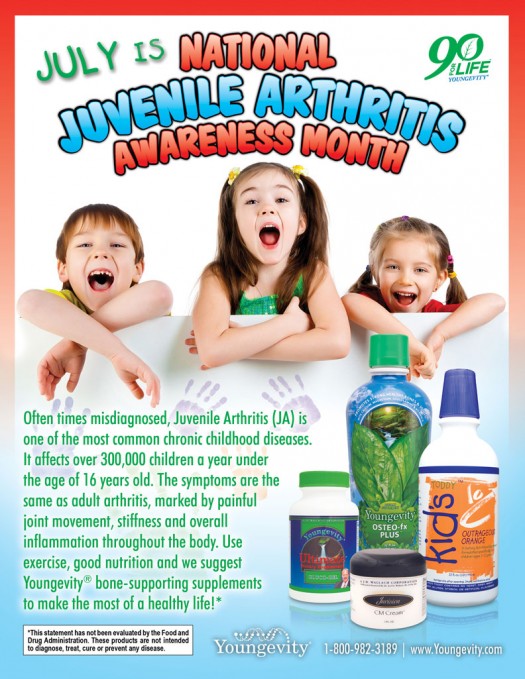 Source: YOUNGEVITY® and SandraBiz.com