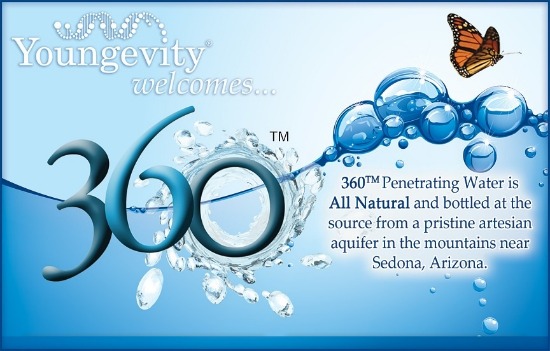 SAN DIEGO, CA – International nutritional products company Youngevity® announced its strategic alliance with direct sales specialists and artesian water specialists, 360 Water LLC.  With this strategic alliance, 360 Water will bring their truly all natural micro-structured alkaline-based water product line to Youngevity's® successful and expanding line of nutritional supplements, personal care, and wellness lifestyle products.
Youngevity® is well known in the network marketing industry for its emphasis on high-quality liquid mineral nutritional products and is the only Network Marketing company to achieve authorized Health Claims through the FDA.  In the past, Youngevity® has aligned itself with such notable companies such as SUZANNE®, Soul Purpose, and ProJoba International among others.  Each of these companies has seamlessly united under one vision, further increasing long-term stability, as well as growth opportunities for distributors from all companies.
360 Water's company vision and cause is to provide clean healthy water to people all over the world.
Consider these alarming facts:
Only 1% of the Earth's water is safe to drink
For children under age five, water-related diseases are the leading cause of death.
Every 15 seconds, a child dies from a water-related disease.
Water-related diseases kill more people than AIDS and war every year.
360™ is not only interested in bringing high quality water to its customers but also in giving back to the community.  A portion of all profits is donated to providing water filters and drilling new water wells around the world in areas that are in desperate need of clean water. 360™ customers can feel good knowing that for every sale, not only are they benefiting, but a family and community somewhere else in the world is benefiting, also.
Founder Pastor Edwin Murray and his executive team will continue to provide leadership to the 360 Water team, adding their energy to the growth of the 360 Water and Youngevity® communities.  Pastor Ed stated,
"We are excited to be joining the Youngevity® family of companies.  We believe their Scientific Advisory Board and product quality is second to none and their compensation plan is the most generous we have seen. Steve and Michelle Wallach are accelerating the legacy that was started by Steve's father, Dr. Joel Wallach, and we are going to do everything we can to help them share their great company and products with the world."
Steve Wallach, President of Youngevity® commented,
"Pastor Edwin Murray is the founder of this movement and true visionary for clean water the world over. He has led his growing team of healthy water enthusiasts in their united vision of clean drinking water for the whole world.  This strong core belief adds to the strength of their business building team.  Like all excellent network marketing teams, the 360 Water team has deep convictions to the products and true entrepreneurial spirit to the business, supporting hope and big dreams for all.  We are excited about integrating the 360 Water product lines into our own with the introduction of Artesian, alkaline, hexagonal water, complementing our existing product lines."
About Youngevity
Youngevity® Essential Life Sciences is a nutritional company dedicated to improving lifestyles by promoting vibrant and flourishing economics.  It is the company's mission to deliver the finest array of technologically advanced essential and beneficial nutritional products available.  Originally founded in 1997, by Dr. Joel Wallach and Dr. Ma Lan as AL Global, Inc., the company adopted the name Youngevity® in 2006.  Youngevity is the only network marketing company to have an authorized FDA Health Claim. Dr. Wallach's research has resulted in the publication of more than 70 peer reviewed and referenced journal articles in the fields of nutrition and pharmaceutical research, and he has made major contributions to numerous multi-authored text and reference books on these subjects.  The company is based in San Diego, California.  More information about Youngevity®, its companies, and the product lines can be found at Youngevity.
Dr. Joel Wallach gives 300 FREE Health Lectures every year. To register for an upcoming event, visit our event registration page.
Ordering Information:
Case of 360 Water (15 – 20oz bottles) |
Item# 36001 | $41.95 ($60.00 Retail)
360 Water (4 gal. jug) | Item# 36002 | $49.95 ($71.50 Retail)
360 Water (2 Cases) | Item# 36003 | $79.90 ($114.25 Retail)
Source: YOUNGEVITY® ESSENTIAL LIFE SCIENCES.