Hair Care For Every Hair Type
SOUL PURPOSE has launched its new SALON RED HAIR CARE line, created with the help of Arthur Harris, a world renown stylist and educator.
The product line is described as high quality, natural, and botanically based and is effective for a multicultural client base.  According to Nadine Thompson, SOUL PURPOSE Founder and CEO:
These products were tested for over a year on a variety of customers (African-American, Asian, Hispanic/Latino, and Caucasian).  The responses were excellent and we kept testing and tweaking until the results were unanimously great.
SIZING
The bottles and packaging have been redesigned from the pre-launch phase, and now come in a large 12oz bottle, ideal for family use and a great value as well.
ADDITIONS TO THE PRODUCT LINE
A third product will be added to the hair care line: an all natural hair gloss.  The gloss is made in a hair butter base, with the addition of Argan oil and lavender and Ylang Ylang essential oils, for health and shine.
Early 2012, will mark the launch of salon ready sizes, for use in hair and beauty salons.
PRODUCT DESCRIPTIONS:
Hydrating Shampoo: Fortified with antioxidants, green tea extract, Acai Berry, Sugar Cane, Argan oil and silk amino acids.  This hydrating shampoo provides defense to color-treated hair, filters harmful UV rays and is rich in antioxidants to protect hair.  All natural, sulfate free and paraben free.  Adds moisture to dry chemically treated hair.  Helps minimize breakage, detangles, enriches hair and evens porosity.
Moisturizing Conditioner: Fortified with antioxidants, Argan oil, tea tree oil, green tea, and silk amino acids.  Detangles hair, repairs surface porosity, hydrates hair helping to prevent dry brittleness and breaking of hair.  Eliminates static charge and protects hair from harmful UV rays.
Nutri-Shine Hair Gloss (COMING SOON!): Convenient travel friendly 1oz size. Promotes a healthy shine for all hair types. Prevents frizzy, dry and fly away hair. Nutrient rich oils, butters and vitamin E. Enriched with olive oil, shea butter and avocado butter. Promotes a healthy scalp and hair. A beautiful, healthy gloss for all hair types.
Ordering Information:
Salon Red Shampoo | Item# SP380 | 12 oz. | $22.00
Salon Red Conditioner | Item# SP381 | 12 oz. | $24.00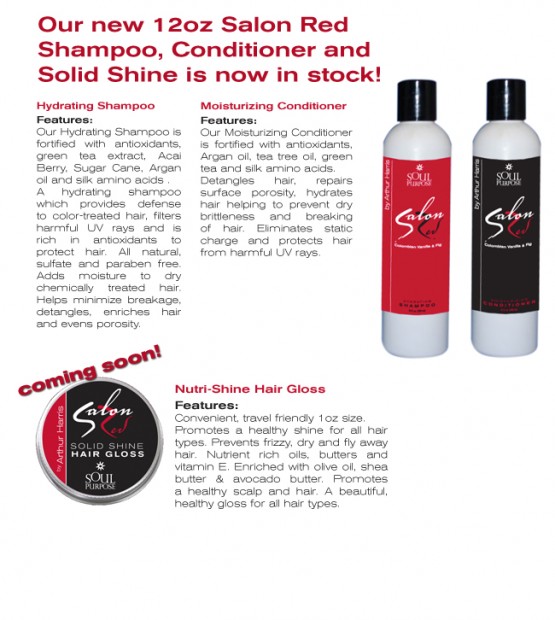 Source: SOUL PURPOSE LIFESTYLE CO.