Even established network marketers choose to partner with Youngevity®: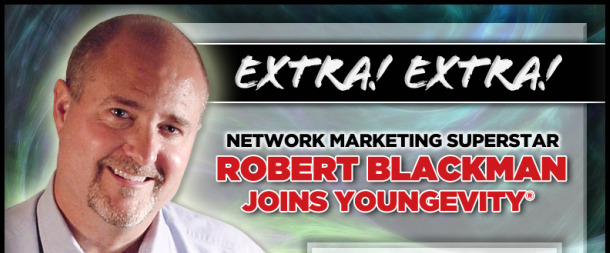 International nutritional products company Youngevity announced the signing of a distributor agreement with network marketing superstar Robert Blackman.  Mr. Blackman is a very successful network marketer with 29 years of experience.  He is 49 years old and is considered to be one of the best in the Network Marketing business today.
Mr. Blackman is the author of numerous training materials, such as "How to Sit Back & Get Rich in MLM" and "How To 100% Absolutely Guarantee That You Can Make Money In Network Marketing." Along with these books, he has created audios and videos to train other network marketers. Literally thousands of people have gained a wealth of knowledge about network marketing and the MLM industry from Robert Blackman.
Mr. Blackman said today when asked why he made this decision:
"After 29 years of looking for the kind of company and leadership that I could work with for the rest of my career I feel I have finally found it. From Dr. Joel Wallach's work with minerals, to Steve Wallach's unmatched corporate management skills to the field leadership of Tom Chenault and Greg Arnold, this is the home I have always wanted."
Youngevity Essential Life Sciences is a nutritional company dedicated to improving lifestyles by promoting vibrant health and flourishing economics. It is the company's mission to deliver the finest array of technologically advanced essential and beneficial nutritional products available.
CEO Steve Wallach commented:
"Robert Blackman is the exemplary kind of distributor in this industry that makes us all proud to be a part of it.  Youngevity is pleased and excited to have him as part of our growing leadership team."
Dr. Joel Wallach and Dr. Ma Lan founded Wellness Lifestyles Inc. in April of 1997, which then adopted the global brand "Youngevity" in April 2006.  Youngevity®, now a leading designer of dietary supplements and cutting-edge personal care and wellness lifestyle products, was founded with the intent to help people "Live Younger Longer!", and markets worldwide through a network of independent distributors.  With Global headquarters in Chula Vista, California, Youngevity® holds international offices in New Zealand and Japan.  For more information about the company and product lines, visit Youngevity.
Source: YOUNGEVITY® ESSENTIAL LIFE SCIENCES