Try It Before You Buy A 30-Day Supply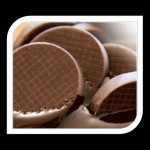 Many of you are interested in TRU Chocolate, our healthy, weight-management chocolate; however, you'd like to try it before you make the investment for a full 30-day supply. Here's your chance!
TRU Chocolate has been around for more than a year and has gotten good reviews from those who have used it to assist in attaining their weight loss goals. It was specifically designed to be a natural alternative to snacks that contain sugar, evaporated cane juice, and high fructose corn syrup.
In a nutshell, it is:
All Natural
ORAC Rating of 3,040 per piece
No added sugar
Glycemic Rating of 8
Lactose Free
Kosher
Vegan Friendly
Gluten Free
As a dietary supplement, you eat one piece (take your time and really savor it) followed by drinking 8 to 12 ounces of cold water. Then simply wait 10 minutes before eating anything else.
Here's to a Healthier, Happier You!
Source: YOUNGEVITY® ESSENTIAL LIFE SCIENCES