H1N1/Swine Flu Wellness Tips

These are everyday actions you can take to stay healthy:
Cover your nose and mouth with a tissue when you cough or sneeze.
Throw the tissue in the trash after you use it.
Wash your hands often with soap and water, especially after you cough or sneeze. Hand sanitizers are also effective.  For an Alcohol-free hand sanitizer, choose Pureworks (effective for 3 hours).
Avoid touching your eyes, nose or mouth. Germs spread that way.
Try to avoid close contact with sick people. Influenza is thought to spread mainly person-to-person through coughing or sneezing of infected people.
If you get sick, the CDC recommends that you stay home from work or school and limit contact with others to keep from infecting them.
Essential Products for a Strong Immune System:
TRU Liquid Chocolate
Mighty 90 Classic Pack

Tru Chocolate (wafer)

PureWorks (Alchohol-free) Anti-bacterial products
Soul Purpose Remedies
Essential Oils that boost the immune system:
Antibiotic (and bactericidal): for fighting bacteria infection: basil, eucalyptus, lemon, lemongrass, neroli, niaouli, palmarosa, tea tree, and rose.
Antiviral: for fighting viral infections such as cold and flu: eucalyptus, lavender, palmarosa, and tea tree.
Cytophylactic: for increasing the activity of white cell blood cells: frankincense, geranium, neroli, and rose.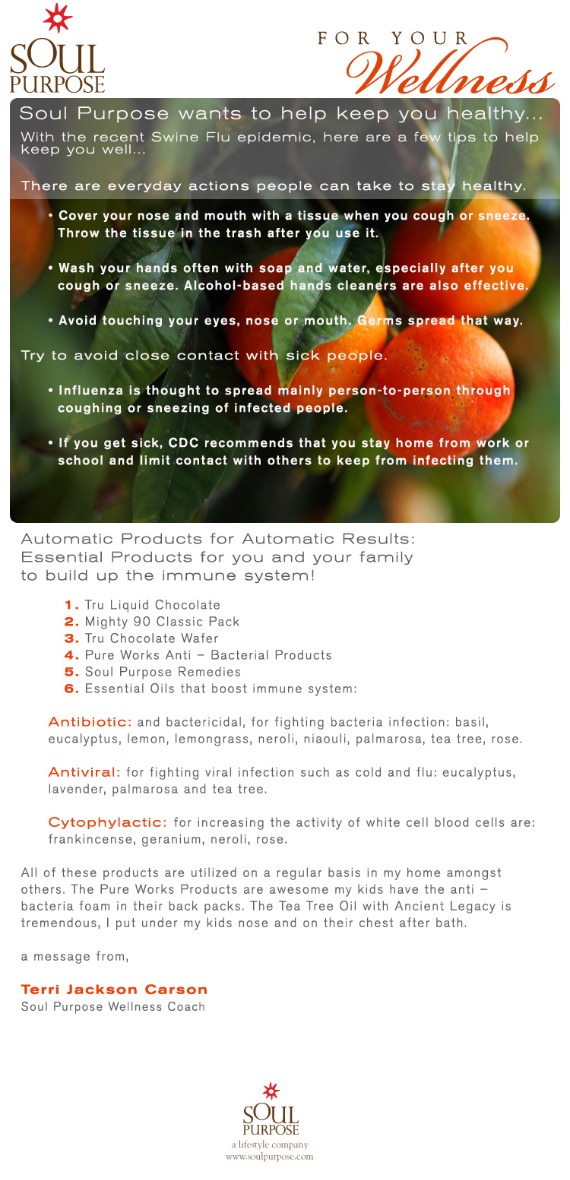 Source: Terri Jackson Carson, Wellness Coach – SOUL PURPOSE LIFESTYLE CO.