I have had the Pionair Air Treatment System in my home for at least 6 years now. I purchased mine after noticing that the fruit in my fruit bowl was molding really fast. That same week, the Pionair System was mentioned on my favorite health show, so I ordered it. It works really well, it works powerfully, and it works fast.
Near the end of the summer, I turned my Pionair unit off. I had forgotten all about it, until last night. I was making rice, and instead of cooking it in the rice cooker (like I have been doing for the past 10 years), I decided to cook it the "old fashioned" way, on the stove top. It would have worked out perfectly had I either set the timer or remembered to check on it while I was watching a webinar.
Interestingly enough, I did smell something burning but I was also ironing at the time (even though I am not a fan of multi-tasking) and I noticed the temperature setting was way too high for the garment I was ironing, so I naturally presumed the smell was coming from the iron. Forty minutes after I started cooking the rice, I remembered it. It was also when I noticed that the rest of my home had filled with smoke and smelled like burnt rice, which I think is almost as bad as burnt popcorn.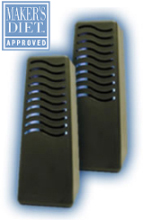 So, I turned on the vent and opened the patio door so some fresh air would come in. After hours with the vent on and the patio door open, I grew really tired of the sound of the vent and the breeze coming through the door was a bit cold. Then I remembered my Pionair!
I turned off the vent, closed the patio door, and turned on my Pionair. By the morning, it had completely eliminated that awful burnt smell.
It works a bit differently than other machines. Instead of pulling pollutants into it, it sends out ions into the air. It is even effective against mildew, after a fire, or just in general. It is meant to stay on all the time, which mine will be from now on.
I remember a few days after I started using mine, the air in my home was cleaner and fresher than the air outside. I would often tell people, "I've got to go home so I can breathe some fresh air!"
You're instructed to give it 3 days to purify the air in your home or office, after you plug it in the first time. They have different versions depending on the size of your home or office. The ions will travel around corners, but they will not pass through doors or walls.
Image Source: HEALTHQUEST TECHNOLOGIES, LLC