As we approach the final weeks of summer, I want to remind you that August 2010 is the final month for our free enrollment special.
Details
When you become a member of Soul Purpose Lifestyle Company (and the Youngevity® family of companies) for only $35, you will receive a $35 gift certificate, good towards the purchase of any Soul Purpose bath and body care products.
Business Overview
If you want to learn more about our company, join us on our live conference call this evening (Tuesday) at 6PM Pacific Time / 8PM Central / 9PM Eastern: Call 1-712-432-8904, code 4SOUL# (47685#).
Extras
In addition to the $35 in free products, you will also receive one month of free service on your personalized Soul Purpose website, allowing you to advertise your partnership with us as early as tonight!
We would love to show you how to make the extra income you need and improve your health at the same time.  Get started today.
Additional Information: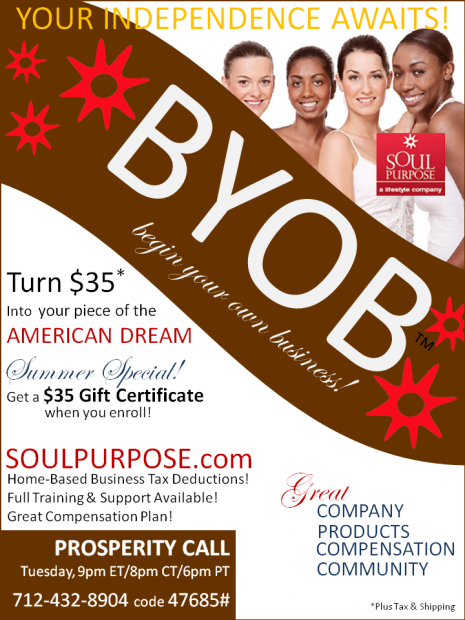 Source: SOUL PURPOSE LIFESTYLE CO.