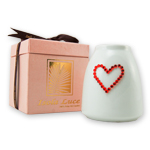 Whether you are a massage therapist or just want to treat your significant other to an amazing massage, the recipient of a massage using this limited edition Massage Candle by Isola Luce will be delighted!
It has a shea butter, palm oil base that feels so good on the skin and it has a delicious aroma.
To Use:  Simply light the candle and give it a few minutes to melt.  Because of the low melting point, the wax doesn't become too hot to the touch and it leaves your skin feeling silky soft!
Although this candle does have a nice aroma, it is not intended to scent a room.  You will only light it for about 10 minutes, just long enough to melt the shea butter and palm oil for a wonderful full body massage.
The person receiving the massage may want to towel off after to remove any excess oil; however, it is not necessary to shower.  All of the oils and butters are good for the skin.
If you want a fragrance for your room, consider:
Brown Sugar & Honey Candle | 10 oz. | Item# SP352
White Chocolate Champagne Candle | 5 oz. | Item# LUC003-5
Brazilian Jackfruit Candle | 7.5 oz. | Item# SP340
Jasmine Rose Amber Candle | 5 oz. | Item # LUC011-5
Malaysian Mango Candle | 10 oz. | Item# SP350
These are just a few of my favorites, but there are LOTS more to choose from.  Just do a search for "candles" once you get to the Youngevity shopping cart.  
Oh, and the item number for the Romantic Tryst Massage Candle is Item# LUCVAL10-M.  It is a favorite of several of the Massage Envy® independent business owners.
Source: ISOLA LUCE and YOUNGEVITY® ESSENTIAL LIFE SCIENCES