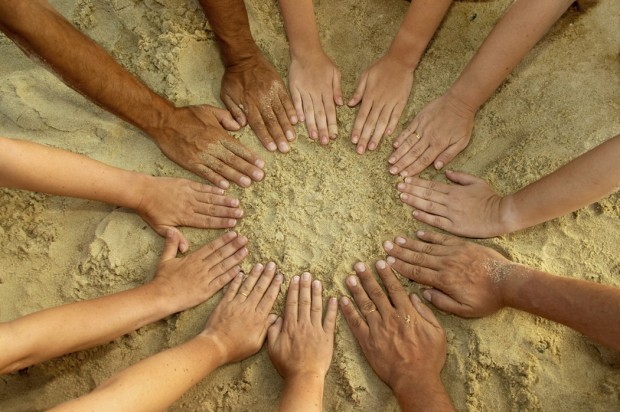 Spread The Right Message
Your hands are your calling card.  They are one of the first places people look when they meet you.  Look at your hands right now.  What do they say about you?
Do they say professional and polished?
…Or something else?
All it takes is 30 seconds to give your hands a beautiful, youthful glow.
Prepare Your HOT Towel
Fold a hand towel in half, hold it under running water until damp, remove any excess water, and roll it from end to end.  Place it in the microwave for about 20 seconds (less time depending on your microwave).  The result will be a HOT towel, just like they bring you at some restaurants after you eat crab or lobster (I am thinking Garlic Roasted Crab from Crustacean's…how about you?).
Be careful, the towel will be very hot.  You may want to handle it with tongs.
Apply The Scrub
Generously apply your hand scrub or body scrub to both of your hands.  My personal preference is the Ghanaian Brown Sugar & Honey Scrub (those of you who have tried it know why!).  Be sure to really work the scrub into both the front and back of your hands, concentrating on those areas where your skin is the roughest and driest.
Prepare To Be Impressed
Grab your hot towel and gently remove the scrub from your hands.
They are going to feel so good!
Finish with your choice of moisturizer.  Lately, mine has been the Ghanaian Brown Sugar & Honey Custard.  It is so light and fluffy; it looks just like whipped cream!
And you are done!   Baby soft skin in 30 seconds flat.
P.S. – Do this on a regular basis so you never have to worry about your hands.  You will know that they look their best and feel baby soft.
© 2010 – Present. SandraBiz.com. All Rights Reserved.