Happy Boss's Day!
Remember your manager and supervisor this Boss's Day (October 16th) with a couple of Soul Purpose candles for their desks. Whether they place their candles on a candle warmer or leave them unlit, the soothing fragrance will fill their offices and the aromatherapy will help them to relax, i.e., be nicer to you!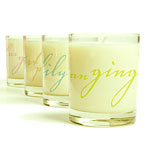 Popular choices are the Brazilian Jackfruit, Caribbean Ginger, and Haitian Vetivert Pepper soy candles.
Brazilian Jackfruit Soy Candle | Item#: SP340 | 7.5 oz. | $20
Caribbean Ginger Soy Candle | Item#: SP343 | 7.5 oz. |  $20
Haitian Vetivert Pepper Soy Candle | Item#: SP345 | 7.5 oz. |  $20
Place Your Order Now.
Source: SOUL PURPOSE LIFESTYLE CO.