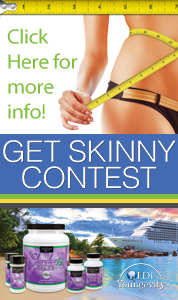 A new "Get Skinny" contest has just been announced to help you achieve your weight loss goals. The contest is open to all members, so make sure you have paid your $10 enrollment fee and obtained a "Payroll ID#."
The contest is built around the Slender FX Weight Management System and features $50,000 in cash and prizes, including a Caribbean Cruise for 2. Prizes will be awarded monthly and quarterly.
The official start date is November 1, 2011 and it runs for 12 weeks. [CLOSED]
Again, make sure you are enrolled as a member, then visit the official website for more details. Good luck!