Adaptogenix products are now available in the Youngevity catalog (select the company name from the menu on the left). The picture shows their product line, with descriptions. I will repost the individual descriptions below to make it easier to read.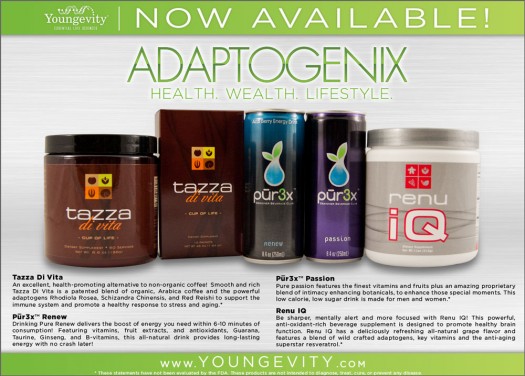 Tazza Di Vita
An excellent, health-promoting alternative to non-organic coffee! Smooth and rich Tazza Di Vita is a patented blend of organic, Arabica coffee and the powerful adaptogens Rhodiola Rosea, Schizandra Chinensis, and Red Reishi to support the immune system and promote a healthy response to stress and aging.*
Pur3x™ Passion
Pure passion features the finest vitamins and fruits plus an amazing proprietary blend of intimacy enhancing botanicals, to enhance those special moments. This low calorie, low sugar drink is made for men and women.*
Pure3x™ Renew
Drinking Pure Renew delivers the boost of energy you need within 6-10 minutes of consumption! Featuring vitamins, fruit extracts, and antioxidants, Guarana, Taurine, Ginseng, and B-vitamins, this all-natural drink provides long-lasting energy with no crash later!
Renu IQ
Be sharper, mentally alert and more focused with Renu IQ! This powerful antioxidant-rich beverage supplement is designed to promote healthy brain function. Renu IQ has a deliciously refreshing all-natural grape flavor and features a blend of wild crafted adaptogens, key vitamins and the anti-aging superstar resveratrol.*
*These statements have not been evaluated by the FDA. These products are not intended to diagnose, treat, cure, or prevent any disease.
I am really looking forward to trying Renu IQ. I wanted to add a resveratrol product to what I was taking anyway, and now, to have it and the adaptogens together in one product is perfect. Let me know what you think of these new products.
Remember, if you want to save money, pay the $10 membership fee, and buy the products wholesale. Enjoy!
Source: FDI YOUNGEVITY®