Rebound fx™ Takes A New Form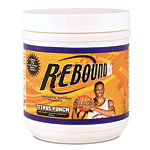 For those of you who are familiar with the Youngevity line of nutritional and energy products, Rebound fx™ Sports Drink is not new to you.  It has been available in a little "shot" bottle that allowed professional athletes and everyday athletes alike to replace the nutrients lost during their workouts and other demanding activities.
Although you liked the effects of Rebound fx™, you may not have particularly cared for the taste.  Now, Rebound fx™ has an all new citrus taste AND it comes in a convenient powder form.  And any time you are able to add water to a product yourself, you are able to control the sweetness and intensity of the flavor.  A win-win for you and any aspiring athletes in your household.
Product Features:
Supports Healthy Exercise
Promotes Optimal Well-Being*
Supports Cardiovascular Health *
Supports Immune System Health*
Boosts Stamina and Energy*
Promotes Healthy Bones*
Great Citrus Taste!
Benefits You Should Notice:
"…quick, sustained energy while supplying a balance of antioxidants, natural herbs, and the minerals that must be replenished in order for the body to function at optimum levels."
The Supplement Facts are listed below so you can see the ingredients.
And, of course, Rebound fx™ is still used and endorsed by NBA All-Star, Theo Ratliff. The 6'10" center was drafted into the NBA in 1995 and has become an all-around force in the NBA.  He is widely known for his tireless energy — and the nickname "THE RATTLER."
Ordering Information:
Rebound fx™ Citrus Punch Powder | Item# 13223 | $34.50 ($49.30 Retail)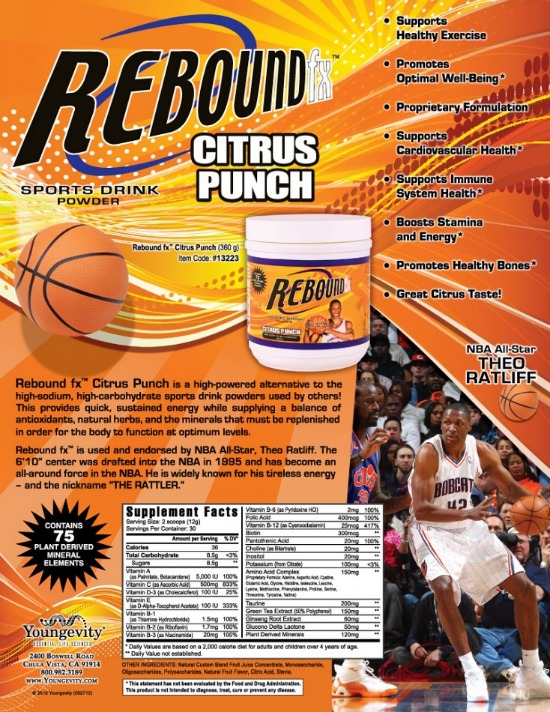 THIS PRODUCT IS NOT INTENDED TO DIAGNOSE, TREAT, CURE, OR PREVENT ANY DISEASE, BUT RATHER IS A DIETARY SUPPLEMENT INTENDED SOLELY FOR NUTRITIONAL SUPPORT.
*THESE STATEMENTS HAVE NOT BEEN EVALUATED BY THE
FOOD AND DRUG ADMINISTRATION.
Source: YOUNGEVITY® ESSENTIAL LIFE SCIENCES